The Next Generation of Hand Sanitizers is Here!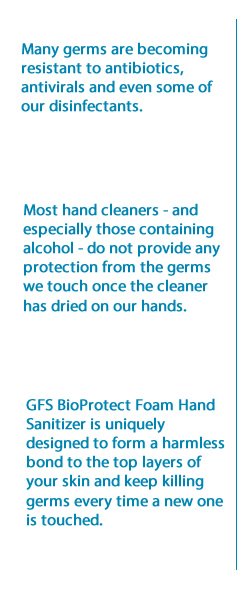 APR Bio-Tech is a division of First American Gas & Electric, LLC. APR stands for Airborne Pathogen Removal, which is an arm of the trilogy of Pathogen Removal from Hands, Air and Surfaces. The comprehensive approach is designed to limit the growth and transmission of the hundreds of different bacteria, viruses and fungi that surround us in our environment. Many of these germs are becoming resistant to antibiotics, antivirals and even some of our disinfectants. Our never ending attempt to manage these dangerous organisms to prevent disease is being strained on many fronts.
PATHOGEN REMOVAL FROM:
HANDS - Our hands represent the best opportunity that we have for picking up, transmitting and spreading the dangerous germs that we come in contact with every day. The Gold standard for removing these germs is hand washing with soap, the friction of scrubbing and rinsing away dislodged dirt and germs. Water is not always available and alcohol based hand sanitizers have been doing the best they can for decades. However, all alcohol based cleaners have one very important failing... When alcohol hand cleaners are dry, they are DONE. Most hand cleaners kill the vast majority of germs on the hands. Most hand cleaners and especially those containing alcohol do not provide any protection from the next germs we touch.
GFS BioProtect Foam Hand Sanitizer is uniquely designed to form a harmless bond to the top layers of your skin and keep killing germs every time a new one is touched - WITHOUT ALCOHOL. ALL tested pathogens were killed at 99.9% for a full 4 hours, all but a few were still being destroyed out to 6 to 8 hours. And it's alcohol-free, aloe based formula is gentle on your skin.